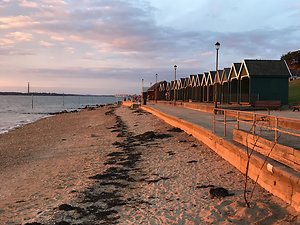 Hi, my name is Nicole Hardiment-Diemer. I am a fully qualified Reflexology Practitioner and a Professional member of the Association of Reflexologists and of the CNHC (Complementary and Healthcare Council).

I have been working as a complementary therapist for more than twenty years. I offer Reflexology and Indian Head Massage treatments from my home in the beautiful beach village of Gurnard. It is easily accessible by foot from Cowes (40 minutes along the Esplanade), by public transport (Number 1 bus - from Cowes of from Newport and then 20 min walk from the Round House) or by car (15 minutes from Newport). I am also available for home visits throughout the Isle of Wight for a small voluntary fee to cover petrol expenses.

I am fully insured and undertake a continuing programme of training to ensure you receive high quality treatments.This is your assurance that I am a trained professional who follows strict regulations.

My wish is to help you become the best version of yourself, by giving you the opportunity to experience deep relaxation, reconnect and restore the balance between your mind, body and emotions - and to maintain these connections at optimum level.

I believe that physical, emotional and spiritual health are some of the most important parts of our life, affecting not only ourselves but also those around us.

Try it! Only you can improve your well being, Reflexology might just be your catalyst.

If you are thinking of taking that step or need some advice, you can contact me by phone on 07703 112732 or by email at nicole@reflexologyiow.co.uk

I offer free 20 min consultations on request. 

With You Every Step of the Way